Rosemarie & Mitchell Klipper
Mitchell and Rosemarie joined Woodbury Jewish Center in September 1991. Membership has enriched their lives as well as the lives of their four sons. Their connection to and support of WJC has grown steadily throughout the years.
Mitchell has been a regular attendee at Thursday morning minyan for over 20 years. He was inspired to make Thursday morning minyan part of his weekly routine after his eldest son's Bar Mitzvah service. His demanding career as CEO of Barnes & Noble's retail group, including weekly travel throughout the United States, rarely interfered with his commitment to attend minyan. After 30 years at Barnes & Noble, Mitchell retired in May of 2015.
Rosemarie's involvement in WJC began with the Parent Association of the Religious School and grew until she served as a Vice President of the Executive Board. She attends Saturday morning services almost every week, and is glad to chant a Haftorah when asked. Rosemarie has also served on the Administrative Board of North Shore Child and Family Guidance Center since 2005.
Mitchell and Rosemarie are involved in many Jewish communal organizations, notably JNF and UJA Federation. Investing in the Jewish future led to their involvement in Jewish day camps. They actively supported the recent multi-million dollar renovation of the Henry Kaufman Campgrounds. Mitchell and Rosemarie's focus on the Jewish future also led to their support of PJ Library. PJ Library touches three of their key philanthropic interests: promoting literacy, strengthening Jewish community, and supporting children and their families.
Mitchell and Rosemarie have been married for 38 years. They are so proud of their wonderful family: Leonard and his wife Jacqueline; Robert and his wife Rachel along with grandchildren Molly, Solomon, and Jonathan; Alan and his wife Juliette; and youngest son, Max. They love to travel and have visited Jewish communities in Israel, Poland, Morocco, Germany, Cuba, Bulgaria, and Argentina. Boating on Long Island Sound has been a favorite family activity since Mitchell's retirement.
Rosemarie and Mitchell love the WJC community. Friendships formed, spiritual guidance from clergy, and a solid Jewish education for their sons are among the many benefits they have enjoyed. They are humbled by this honor and thank all who supported this year's Gala.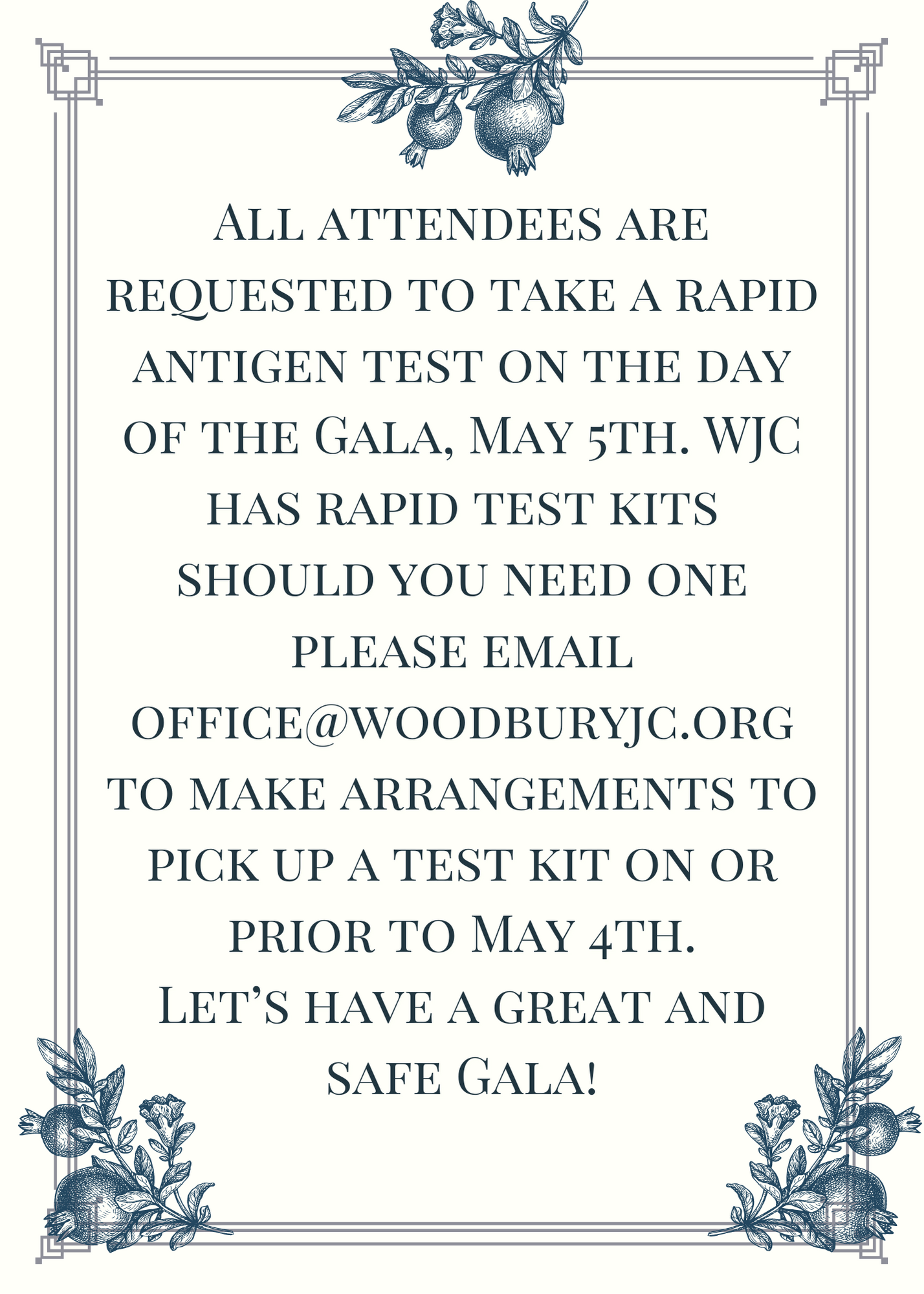 JOURNAL ADS AND SPONSORSHIPS
All submissions, including any images you would like in your ad are due Sunday, May 1st.
To download a copy of this form to print, click here.
This form is not active.
If you are unable to upload a file, please email it directly to
gala@woodburyjc.org
or send by mail to WJC 200 South Woods Road Woodbury NY 11797 Attn: E-Journal
Wed, November 29 2023 16 Kislev 5784