All Passover services will be on Zoom...see below how to access
Your Passover First Seder:
Wednesday Evening, April 8th - not on zoom

Your Passover Second Seder:
Thursday Evening April 9th - not on zoom

Last Two days:
Tuesday evening April 14th to Thursday Evening, April 16th
Wednesday April 8th
7AM Minyan with Siyum for Fast of the First Born CLICK HERE
Finish eating Chametz by 10:50
Burn Chametz by 11:56
7:14 PM Candle Lighting
Thursday April 9th
8:14PM Candle Lighting
Friday April 10th
6PM Erev Shabbat Services - Mincha, Ma'ariv CLICK HERE
Saturday April 11th
9AM Shabbat Pesach Services
Sunday April 12th
Monday April 13th
Tuesday April 14th
7:20PM Candle and Yahrtzeit Candle Lighting
Wednesday April 15th
8:21PM Candle Lighting
Thursday April 16th
8:18PM Passover Ends
8:22PM Chametz Time
From the Rabbinical Assembly
Getting on Zoom
If using a smartphone, you can locate the free Zoom app in your app store, download, and click on "join" and enter the code.
SERVICES WILL BE IN ZOOM MEETING ROOM CODE 210-047-0369
What in the world is Zoom?
Not sure how to join a Zoom meeting?
Watch this excellent video on how to get in on the fun! It's easy to learn and will get you "out" of your house.
Activities and Additions for an Awesome Seder
Kosher Wine for your Passover Seder. Selections from around the world.
Support WJC
10% discount off most wines, no sales tax (19% savings), make check out to Woodbury Jewish Center.

CLICK HERE for the complete list.
Please email your order directly to Mark: mgminsky@aol.com
Friday, April 3rd is last day to order.

Pick up is Sunday, April 5th, 9-11am, at Mark Minsky's home 29 Gainsboro Lane, Syosset
Time for some laughter...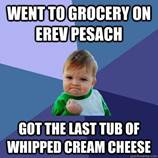 Sat, April 4 2020 10 Nisan 5780